This month's challenge is to scrap about how it is more blessed to give than to receive.
Have you even given someone something or done something for someone with absolutely no strings attached, expecting nothing in return? How did that make you feel? Have you ever been overjoyed after giving something that made someone truly happy? Have you been the recipient of a gift from a child, so eager to bring you pleasure with something they made for you? Has someone ever done something for you that you could never pay them back for? In this world of always striving for more we can easily forget the blessing of giving to others.
So put your thinking cap on...and create a project about a gift you received that really touched your heart or a sacrificial gift you gave. Perhaps you could even make a gift to give (specifically for this challenge). Also...it wouldn't have to be a physical gift, do you have photos of when you donated your time to help out?
The scrap twist is to include some gems on your project.
This month's sponsor is
ScrapChicKits
and here is what the owner Sue has to say about it:
"I got started into scrapbooking from Bernadine Segui who is an American fluent in French who has a website in French and does amazing design work. Here is her link for any of you who speak French.
I wanted to bring some of her products together into kits for the English speaking and that's how Scrapchickits got started. I love family history and scrapbooking can make our history so bright and creative. My store features quality products from Websters, Crate Paper, Pink Paisley and more at a very reasonable price. My shop is on Etsy so it is really easy to find and to order.
ScrapChicKits. Happy Scrapbooking!"
And now for the prize that Sue has so generously donated: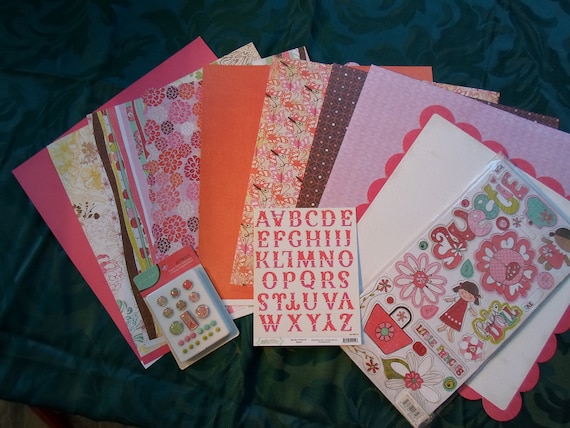 This kit is especially designed for your little girl who loves do
lls, dress up and flowers. It is luscious pink and turquoise. Look what you get inside: 3 Crate Paper Cottage Collection papers, 1 Crate Paper Paper Doll Collection paper, 4 Crate Paper Pink Plum Collection papers, Crate Paper Chipboard Paper Doll Accents, Crate Paper Paper Doll Glazed Brads, 18 inches turquoise ribbon, My Minds Eye Alphabet.
One winner will be chosen randomly.
**NOTE: You may submit the project you create for Scrapping Everyday Miracles to other challenge blogs but your project must be mainly created for the Scrapping Everyday Miracles challenge in order to win the sponsor prize and/or be one of Top 3**
All entries must be linked HERE by March 31st, 11:59pm PST.
*Important: Make sure your link is to the blog post with your project & not just your blog in general...and be sure to remember the SCRAP TWIST!
here's what I came up with:
head on over and check out what the DT has created for this challenge!